Masharamani 2012 was launched last evening at the Umana Yana under the theme 'Mashin' with Pride, Keepin' we Tradition Alive.'
An added feature this year, it was revealed, will involve taking the top three singers in the Chutney competition to Trinidad and Tobago to participate in their competition. This was as a result of interest expressed by the Trinidadians.
In addition, the Ministry of Culture, Youth and Sport will host a 'Light Up, Bright Up' competition. Permanent Secretary in the Ministry, Alfred King, said that having observed the strengths and weakness of this year's competition, they will look to capitalize on the strengths to overcome the weaknesses for the "biggest Mash ever" in 2012.
A "vibrant" committee is already in place formulating plans, he said.
Banks DIH will be one of the major sponsors and its representative Troy Peters said the company will be supporting the event in a "big way."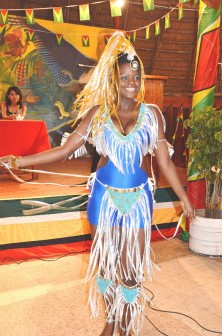 Minister of Culture, Youth and Sport Dr Frank Anthony promised a packed programme of traditional elements, including song competitions among other things. In relation to the steel band competition, he said that they were able to improve the standard of the art form, having spent a lot of money on its revival.
The competition has grown and new bands as well as schools are coming out every year, he said. Anthony called on more companies to get involved. The theme, 'Mashin' with Pride, Keepin' we Tradition Alive,' was submitted by Margaret Lawrence, who won herself $50,000 as a result.
Around the Web