Ashley Khalil is in seemingly good form as she downed her Guyanese counterpart Mary Fung-A-Fat in the girl's under-19 category on Saturday at the Georgetown Club Courts to advance to the final of the Digicel Caribbean Junior Squash Championships.
Khalil, the under-19 junior defending Caribbean Area Squash Association (CASA) champion played a versatile game using her wide array of backhand and forehand strokes to overpower Fung-A-Fat and win the semi-final encounter 3-0 at 11-4, 11-7 and 11-6.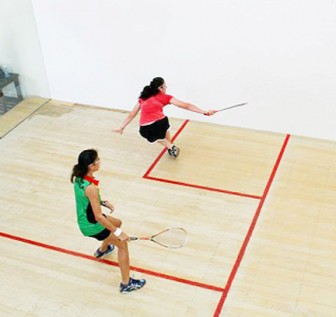 Keisha Jeffrey in pursuit of her 5th individual title defeated her sister Kayla Jeffrey in the girl's under-19 semifinal to set up a much anticipated showdown with Khalil. The intense match-up between the two sisters ended 3-0 at 11-4, 14-12 and 11-3 as the second set saw them matching each other stroke for stoke in the set.
Jason-Ray Khalil mirrored his sister's performance in the boy's under-17 category to make it into the final of the Digicel-sponsored competition.
Much like his play for his Division One Basketball team, Marian Academy, Khalil's unorthodox and crafty ways of playing the game of squash got the better of his Jamaican opponent Julian Morrison as the game ended 3-0 at 11-7, 11-6 and 11-7.
The Wiltshire sisters of Guyana dominated the girl's under-15 category as Larissa Wiltshire dispatched her Guyanese counterpart Gabrielle Fraser in her semifinal to meet her sister Akeila Wiltshire in the final of the tournament. Akeila had earlier defeated Mary Mahfood from Jamaica in her semifinal.
Both sisters will match-up well in the final as they mirrored each other's performance in the semifinals finishing off their opponents in 3 sets to 2.
L. Wiltshire downed Fraser 11-9, 7-11, 11-5, 8-11 and 11-9 while A. Wiltshire topped Mahfood 12-10, 11-7, 5-11, 4-11, and 11-3 in their semifinal encounters.
Meanwhile in his fifth Junior CASA tournament, experience along with his excellent retrieving skills allowed Nyron Joseph of Guyana to outclass Julian Jervis of the Cayman Islands 3 sets to 1 at 11-9, 9-11, 11-7 and 11-8 to make it into the Boys under-15 final.
Around the Web