Another road fatality was recorded yesterday when a 50-year-old pedal cyclist was struck down on the Montrose Public Road, East Coast Demerara in an apparent hit and run accident.
Kennard Seetaram, a father of two, died on his way to the Georgetown Public Hospital. He reportedly sustained massive head injuries. The driver, who sources say is a law enforcement officer, later turned himself over to police in the company of relatives.  He had fled the scene leaving his number plate, PLL 8559 behind.
Based on what this newspaper was told Seetaram was returning to his Le Ressouvenir, East Coast Demerara home at around 3 pm when tragedy struck.
His brother Richard explained to reporters outside the Accident and Emergency Unit that he was told by persons on the roadway that it was a "hit and run accident. The car hit him and the driver came out and he examined the body then he go in the car and he go away".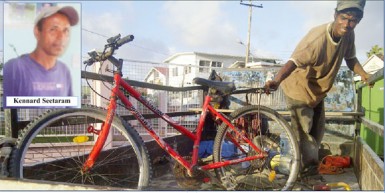 The man expressed disappointment that the driver left Seetaram on the roadway instead of rendering assistance. "It is an accident. We all get involved in accidents but I think you should render some assistance. He would have died anyway but he should have been kind to do something."
Richard stated that he was heading home from his construction job when he came upon the accident scene and on inquiring discovered that it was his brother. It was he who transported Seetaram to the hospital.
According to Richard, Seetaram returned from Suriname several days ago after spending one year in that neighbouring country.
Ravi, who identified himself a nephew, told Stabroek News that his uncle had been deported from Suriname and returned home on Monday. He explained that Seetaram was a fisherman and police raided the vessel he was working on. He said that shortly before his death he was "trying to get papers to go back".
Around the Web