Three brothers lost their homes after a fire, suspected to have been deliberately set by one of them, ravaged their three apartments at Goedverwagting, East Coast Demerara yesterday.
The fire started around 2:30pm and quickly engulfed the three apartments at Lot 40 Goedverwagting, and scorched some nearby fowl pens. Two of the brothers, Andrew and the suspect, were in the building at the time.
Samuel Critchlow, who was the occupant of the last apartment, said that he was at work when he heard the sounds of sirens racing up the road. "I say is probably them jail man going home early…is then someone tell me 'look them people running by you,'" he said.
He recounted that as soon as he arrived at their house shortly after,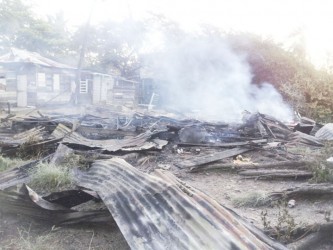 he took one look at the flattened structure and turned back. "If you know how I vex right now. Since last night he (the suspect) deh like he want to commit suicide. He had a razor to he neck and like he want cut he self," he said.
He told Stabroek News that his brother, who was discharged from the hospital yesterday, suffers from various ailments and has threatened to kill himself many times. He said they never believed that he would actually try to do it.
"I really think is he start the fire. Last evening, I had to take away the candle from he and put on the current because I had a feeling like he de want bun down the house," he said, while adding that he doesn't know what his next move is since he lost all his belongings in the fire.
Another brother, who lives in the same yard, said that he heard someone shout "fire" and when he opened his back door, all he saw was the building in flames. "I hear someone shouting for "fire, fire," but I ain't even know is who and when I buss me backdoor all I see is the place on fire," he said.
He added that the firefighters responded in a timely manner and they did their best but nothing could be done to save the buildings
The suspect, who was said to have kidney and heart problems, was lying in the middle of the yard looking dazed and confused and making incoherent sounds. His other brother, Andrew, who is also sickly managed to escape from the house unhurt and is now staying with relatives.
Around the Web