A man was fatally shot during a gambling row over $500 in the vicinity of the London Base Taxi Service on Mandela Avenue early yesterday morning.
Mansford Lewis, 33, a landscaper, from North Ruimveldt, was at a shop where illegal gambling takes place when there was an argument over $500. A fight soon broke out on the roadway and it was during this time that Lewis was shot in his head and shoulder by a man, who was identified as 'Kevin.'
A release from the police force said that the suspect and a taxi driver rushed Lewis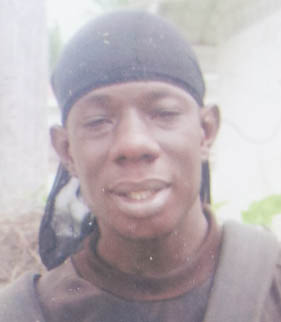 to the Georgetown Hospital where he was pronounced dead. On learning of Lewis' death, the suspect fled the scene.
Crime Chief Seelall Persaud said that the melee occurred around 12:30 am. He confirmed that the police were pursuing the suspect, who fled after hearing that the man was dead.
Asked if anything is known about the suspect, Persaud said that checks will have to be done into his background.
Speaking with Stabroek News, Lewis's girlfriend Natasha said that she had spoken to him earlier in the night when he had asked for some money to pay someone. "He asked me for $3,000 to pay someone and I went and gave him the money. That was the last time I saw him. This morning his brother called and told me that he was killed over some gambling night. I am still waiting to hear something," she said.
A source familiar with the operations of the wash bay said that the men would normally drink and play cards at the shop after hours.
Lewis was the father of a seven-year-old child.
Around the Web