The Ministry of Agriculture has designed a project to engage students enrolled at the Guyana School of Agriculture (GSA) in income-generating activities during the duration of their programme, in keeping with its goal of making them practising agriculturists by the time they graduate.
The ministry is making available 100 one-acre plots in Mon Repos for the students, who are expected to team-up and use their assigned plots in a money-making enterprise.
The project aims to help them to marry the practice of agriculture with entrepreneurial skills to make a livelihood, Agriculture Minister Dr Leslie Ramsammy said in his feature address at a youth forum organised by the Caribbean Farmers Network during the just-concluded Caribbean Week of Agriculture activities held at the Guyana International Conference Centre.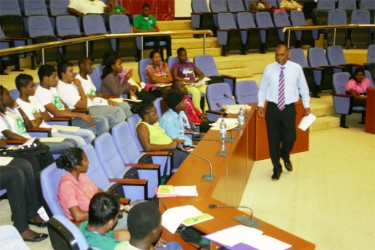 "By the time you leave GSA, you would not only have had your diploma but you would have had practical experience in developing and implementing a business enterprise. That's what you would do and that would be a requirement for graduation," Ramsammy said.  He disclosed that this idea was birthed in an effort to create jobs for GSA graduates to ensure they are employed at the end of their studies. As a result, efforts are being made to create collaborations between students at the University of Guyana and the GSA so that they would "be constantly working on real projects."
The project will also make an impact further afield as five GSA students will be assigned to work with farmers in Region Nine on a project that is being developed to optimise the production of cassava and to process it into farine, cassava bread, cassareep and other commodities. Five other graduates will be assigned to the Moco Moco Project which entails teaching the indigenous people "to operate a farm – to grow and package rice – to sell right there in Region Nine so they don't have to fetch rice from Georgetown into the region," Ramsammy said.
Noting that Sterling Products on the East Bank Demerara processes turmeric into powder but has to import the commodity because although turmeric is grown in Region One it is too expensive to transport the commodity to Region Four, the minister said that GSA students will be assigned to Hosororo, Region One, where there is a NARI nursery that produces plant material for distribution to farmers, to set up a production plant there to process turmeric thereby reducing its weight and transportation costs to town.
Sterling Products is prepared to buy the product, he said.
Dr Ramsammy also revealed the Ministry of Youth, Culture and Sport has made available over 20 acres of land to the New Opportunity Corp (NOC) and GSA students will travel to Essequibo to help them to cultivate black eye peas.
According to Dr Ramsammy, Guyana imports 15,000 tonnes of black eye peas annually and it is hoped that this venture will meet local needs and bring an end to importing this commodity by the end of 2015.
The GSA and ministry plan to hand over the farm to the NOC and its students during the second crop by which time they will be equipped to operate the farm by themselves. The minister also said over 700 acres of land is available to Kuru Kuru which will be made into larger plots than the single acre ones at Mon Repos, for Kuru Kuru farmers to grow corn with support from IICA and CARDI.
"The students and the professionals from the Ministry of Agriculture will come and work with you and when we would have completed it, we will hand it over to the school. The school will generate its own resources and expand the opportunities that are there.
These are the kinds of things that we are doing so that by the time the young people leave school, they are already in agriculture. They are already transforming agriculture," he said.
Around the Web