A Parika, East Bank Essequibo man was one of two victims of fatal accidents that occurred between Sunday night and early yesterday morning; the second was a teenager of Diamond Housing Scheme.
Shafeek Shaw, 32, of Lot 26 Hydronie, Parika was struck down and killed on the public road at Bushy Park, East Bank Essequibo (EBE) at approximately 12 am yesterday, while he was walking along the roadway.
Hilton Kippins of A 5 St Lawrence, EBE, who was driving the Toyota Spacio HC 3449, which struck down Shaw, is in police custody assisting with investigations.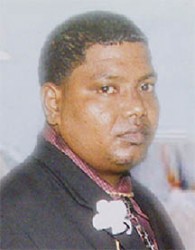 According to Shaw's mother Rajkumarie Shaw, her son was at a wedding in a nearby village, walking distance away, while she and his wife of less than two years Meena Seepersaud, 22, were awaiting his return home.
Rajkumarie said she tried calling her son's phone around midnight to no avail and was contacted shortly afterward by a friend of her son who informed her of the accident.
According to Rajkumarie, she and some relatives and friends went to the Parika Police Station, but could not get an officer to accompany them to the scene. They went nevertheless and saw Shaw lying on the side of the road while Kippins, a taxi driver of Frontline Taxi Service, stood there with Shaw's phone in his hand.
Rajkumarie said they asked Kippins what had happened but received little or no information that was useful to them. They then arranged for a taxi to take what they said was "a cold body" to the Leonora Cottage Hospital. Shaw was pronounced dead on arrival.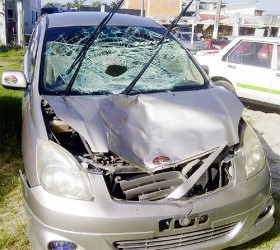 Rajkumarie said that her son's body had been lying there for more than an hour before they could muster the resources to take him to the hospital.
Leaving some friends at the scene with the taxi driver, the family returned to the Parika Police Station, where, Rajkumarie said, she started to cry and cause a raucous. This prompted the police to send a patrol to the scene of the accident, she said, adding that this was approximately 3 am.
The police then marked the scene of the accident where blood was found and the position of the car and arrested Kippins, according to the family.
Shaw was an employee at K Pharmacy and Superstore located at the Parika Market and lived with his mother, stepfather and wife. The family operates a furniture shop out of their residence.
Meanwhile, police said in a press release that Mikhail Persaud, 18, of Diamond, East Bank Demerara was killed after he lost control of the car he was driving and collided with a parked vehicle at Vriesland, West Bank Demerara.
Police said Persaud, who was allegedly driving at fast rate, was pronounced dead on arrival at the West Demerara Regional Hospital.
Investigations into both incidents are ongoing.
Around the Web