Den Amstel road crumbling less than a week after completion
Less than a week after completion, an access road leading to the Den Amstel Koker has already started to show signs of deterioration.
During a visit to the community by Stabroek News yesterday afternoon, residents complained of the unsatisfactory work done by the contractor and what they said was secrecy surrounding the contract.
The road, which was completed last Saturday, was observed to be flaking at the edges and caving in at parts.
The work on the road, which serves as the only access road, is shrouded by a cloak of secrecy, according to a Neighbourhood Democratic Council (NDC) member, who was among the upset residents.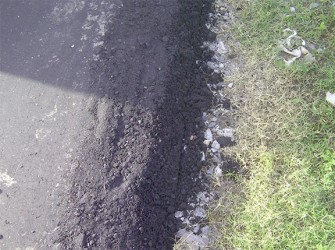 The councillor explained that attempts had been made to obtain the bill of quantities from official sources but flimsy excuses were given. The councillor said the bill of quantities was obtained from an unofficial channel and it estimated the cost to complete the road at $10M. However the councillor along with residents complained, saying that the materials on the list were not used. They said no sand was trucked in to construct the road. They further mentioned that their enquiries were met with arrogance on the part of the contractor.
Residents were unaware of the name of the contractor who was awarded the contract.
Residents stated that the road will be undermined in a matter of months and that no heavy machinery can use it. With the road being the only access road to the koker, residents fear that they might be left to God's grace if any water-based disaster should occur and the koker malfunctions.
They also complained about the road being too narrow at only eight feet, when they would have preferred 10 feet. They further complained that the road is uneven throughout its entire estimated length of 200 feet.
The councillor said that the Regional Democratic Council (RDC) was supposed to consult the residents before it does any of the infrastructure work in communities. The councillor added that the RDC was supposed to lodge the bill of quantities at the NDC and make it available to the residents. This, the councillor stated, would have allowed the residents to gauge the adequacy of the work being done and to be able to report any deviation or discrepancy to the NDC or RDC.
The site was also visited by APNU MP Joseph Harmon who promised to dig deeper into the matter and raise it at a higher level if necessary. Efforts were made by Stabroek News to contact Region 3, Regional Chairman Julius Faerber and Regional Executive Officer Donald Gajraj for comment but these were unsuccessful.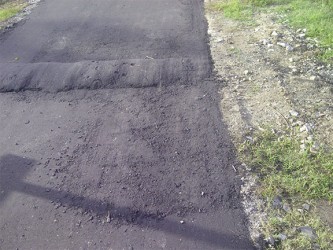 Most Read This Week