A teenager now stands accused of threatening to kill his mother with a gun and then escaping from police custody.
Wendson Thomas, 17, however denied all the charges levelled against him when he appeared before Magistrate Fabayo Azore yesterday at the Georgetown Magistrates' Courts.
It is alleged that on August 12, at Karasabai, South Pakaraimas, Region Nine, Thomas used threatening language to Wendy Thomas, resulting in a breach of the peace. Further, it is alleged that on August 14 he had an unlicensed .25 pistol in his possession. Finally, he is alleged to have escaped lawful custody on August 15.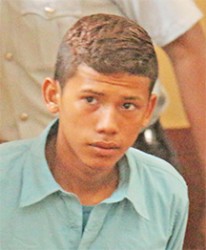 Prosecutor Michael Grant explained to the court that the charges stemmed from a series of events that began on August 12 with a misunderstanding between Wendson and his mother, during which he pointed a .25 pistol at her and threatened to kill her.
The court heard that after the threat was reported to the police, a search was conducted at the young man's residence and the unlicensed firearm was found.
According to Grant, he was then taken to the Lethem Police Station and was placed in custody for questioning as investigations were being conducted. However, he allegedly managed to escape.
Grant objected to Wendson being granted bail, while citing the seriousness and prevalence of the offences and the likelihood that he would not return to court to stand trial.
But Thomas' attorney, in a bail application, refuted the prosecution's claims, while noting that his client had no antecedents, had a fixed place of abode with his mother at Karasabai and posed no risk of flight.
Responding to each charge in turn, the lawyer said that the teen and his mother had a misunderstanding after he thought she should have sided with him and not his girlfriend in a dispute. This matter, the lawyer said, was reported to the village Toshao and later to the police, who charged his client. He, however, stressed that the teen did not threaten his mother.
The lawyer also said that the weapon in question belongs to the teen's uncle, who is not around and that it was Wendson who had led the police to it after questions about it arose. The lawyer contended that it is Wendson's mother who should have been charged with possession of the unlicensed firearm as it was in her house that it was found. "He doesn't own the house," the lawyer said, adding further that at no time was the firearm found in the young man's possession.
After submitting that the house is occupied by several other persons, the lawyer said that these amounted to special reasons for bail to be granted.
Meanwhile, regarding the teen's alleged escape from custody, the lawyer said that Wendson was never placed in the lock-ups and that if he was, it would have been impossible for him to have escaped. He said that the teen had instead been placed on a bench outside the station to sit as the police were deciding "what to do with him."
According to the attorney, the teen decided to leave the station and went back to his mother's residence. He added that if his client really wanted to escape from the police, he would have gone into hiding. He opined that the teen could have even fled to neighbouring Brazil.
He said that when Thomas left the station, 72 hours had already expired.
After hearing the arguments, Magistrate Azore placed Thomas on $10,000 bail on the threatening behaviour charge, $35,000 bail on the escape charge and $150,000 bail on the unlicensed firearm possession charge.
His matter will be called again on September 8.
Comments

Jerry Lewis   LOS ANGELES,  (Reuters) – Jerry Lewis, the high prince of low-brow comedy on stage and in movies as well as a fund-raising powerhouse with his annual Labor Day telethon, died today of "natural causes" at the age of 91, his family said.

Beharry Automotive Limited (BAL) , the authorised distributor for Toyota parts and lubricants, says that an abundance  of imitation Toyota parts and lubricants have entered the market with the Toyota logo and trademark.

Grace Mugabe   HARARE,  (Reuters) – Zimbabwe's first lady Grace Mugabe returned from South Africa early today, state media reported, after a 20-year-old model accused her of assault in an upmarket Johannesburg hotel room.

Michael Bhopaul, 16, doesn't know if he is this year's best performer at    the Caribbean Secondary Examination Certificate (CSEC) Examinations, but with preliminary results showing that he has obtained passes in 25 subjects, he will be hard to top.

Inmates at the Lusignan Prison turned over 33 improvised weapons yesterday morning to prison authorities, who say that they also apologised to the prison staff for the unrest at the facility on Friday night.