MIAMI, (Reuters) – The visiting San Antonio Spurs again torched the two-time defending champions Miami Heat in their own backyard, moving to within one victory of clinching the NBA championship after a 107-86 win in Game Four on Thursday.
The one-sided win gave the Spurs, who clinched Game Three by 19 points in Miami, a 3-1 lead in the NBA Finals and put them in position to claim a fifth championship in 15 years when the series shifts to San Antonio for Game Five tomorrow.
No team has ever prevailed in the NBA finals after falling behind 3-1.
Kawhi Leonard led San Antonio's balanced, ball-sharing attack with 20 points along with 14 rebounds and Tony Parker added 19 points as all 13 players on the roster joined in the scoring spree for the Spurs. "I just think we're playing Spurs basketball. We're just moving the ball, and we're just playing the way we've been playing all season," said Parker.
"We just have to stay focused, and we'll be ready. We just have to think about last year. We don't need more motivation than that," the Frenchman added in reference to last year's Finals defeat by Miami in an epic series decider.
LeBron James, a shadow of himself during the first half, came alive in the third quarter in scoring 19 of Miami's 21 points but it was not enough to slow the dazzling Spurs. Four-time NBA most valuable player James led the Heat with 28 points, with Chris Bosh next highest with 12.
OFFENSIVE SHOW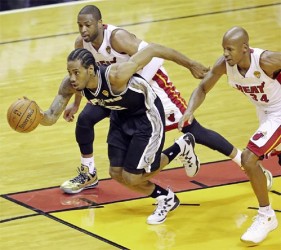 Looking ahead to Game Five and possibly beyond, San Antonio coach Gregg Popovich said "every closeout game is very difficult".
"I'm pleased that they performed as well as they did while we've been in Miami, and that's about as far as it goes," he told reporters.
"Now we've got to go back home and play as well or better."
San Antonio put on a sensational offensive show in Game Three by shooting an NBA Finals record of 76 percent in the first half of that runaway road win.
On Thursday, they put themselves in position to avenge last year's agonizing loss with another sublime display of ball movement and motion that produced wide open three-point chances and open layups and dunks.
For Heat coach Erik Spoelstra, it was another night of frustration and his beleaguered troops now need a record comeback for Miami to claim a third successive NBA crown.
"We'll lay everything out, look under the hood, and see what we need to do. When we're right, we can beat anybody in any building and that's the only focus for the next 48 hours," he said.
"San Antonio is playing great. They're moving the basketball. They're exploiting where we're normally good, so we have to do a better job."
MIAMI LETDOWN
Spoelstra said fatigue was not a factor.
"Both teams are playing the same minutes, same time of year. We just have to figure it out. We have 48 hours. I've got to do a better job for my team.
"They (San Antonio) played great. We just couldn't get into a rhythm on either side of the ball, and then it just went from there."
If Heat fans had expected a reaction from their lopsided loss on Tuesday, they were in for a letdown as San Antonio quickly took control, racing to a 13-4 lead in the early exchanges. "This was probably the biggest surprise of the series," said Spoelstra. "I think everybody came in expecting something dramatically different than this, and that's what competition does." James at times resembled a man fighting a lone battle, propping up an ailing Heat ship but unable to stem the tide as Miami's championship hopes began to drain away and the fans headed for the exits long before the end.
With Dwyane Wade's radar clearly awry and James subdued, Heat trailed 55-36 at the half and never looked like staging a comeback. A more aggressive James, upping his intensity, did his best to give the home fans hope but said his hot-scoring run in the third quarter "meant nothing".
The Spurs led by 24 heading into the fourth quarter and James admitted "they smashed us".
"They came in and were much better than us in these two games. It's just that simple. They're a high-oil machine and they move the ball extremely well."
Two other less heralded Spurs stood out through their contributions.
Australian backup guard Patty Mills scored 14 points, including 4-of-6 from three-point range, and France's Boris Diaw had a great all-round game with eight points, nine rebounds and nine assists.
Around the Web