Story and photos by Kenesha Fraser
The little village of Somerset and Berks sandwiched between New Road and Evergreen is "peaceful and quiet" according to residents. When Sunday Stabroek visited the area, almost everyone was indoors and the only school in the village – Somerset Nursery – was in session. However, along the public road in a well-fenced yard, Indal, popularly known as 'Doctor' was in the company of his friends.
Indal recalled that in the early years, the village was not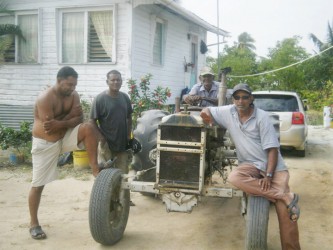 populated and had large bushes.  "For 55 years, I live in Somerset and I enjoy living here. Before now, we ain't had any running water or electricity, much less telephones. I can remember we use to use flambeau and gas lamps. Now we so fortunate to have electricity."
He added that there were two wells that were used to access clean water but the water that was used for domestic purposes came from a nearby canal.
"You see the bridge there over the canal? It was a wooden one but lately we get this new one here. I always like living here. I went to a lot of other places and I realize that here is the best place to live."
When asked if there was a school in the village in the early years, Indal said no, and explained that the only schools were in Charity approximately two-and-a-half miles away from Somerset.
"We use to walk to school and it didn't had no car or anything to give us a drop, and in them times the sun use to be very hot."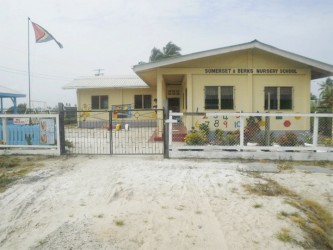 It is fortunate that the villagers now have potable water, electricity, a telephone service and an abundance of vehicles to take them from one place to another (forget walking long distances!).
Indal, who is now a farmer sells his produce in retail quantities but said he is "having a hard time to sell the things them because people want to buy them cheap." He is hoping that a government complex can be built to facilitate farmers in selling their produce.
Another resident, Omadevie Lalman was in her shop, and told Stabroek News, "I only lived here for four years but so far it has been nice. This is a lovely village but the only thing that really bother us here is that we get flooding when the rain falls and we also get constant blackouts."
No one knew how the village got its name and one   resident remarked that it's a "mystery." However, most  likely the name has its origins in a plantation owned by an English planter, since Somerset and Berks (short for Berkshire) are two English counties.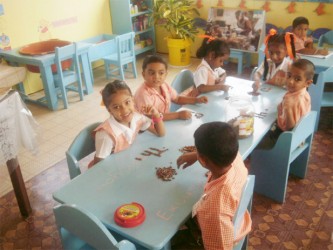 The young people who live in the village are employed as teachers or labourers while the others are still school-age. Most of the men are rice farmers who spend their days in the fields.
According to the residents, there is a great need for a playground so the youths can be involved in more physical activities.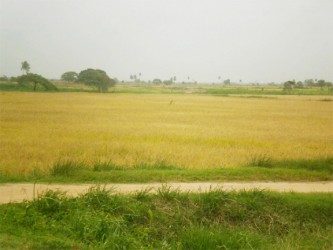 The majority of villagers were shy and declined to be interviewed, but along Sideline Dam, this newspaper encountered a lively 80-year-old lady, Deenmattie "Deena" Indari, who was happy to share her experiences about living in the village.
"For 25 years I live in this place," she told Sunday Stabroek, and I never think about going and live anywhere else. When I first move here from Lima, the place had plenty bush.
"If you see them bush we had to cut down to build we house. As for water, we use to get from the main canal to do everything – drink, wash, cook and so."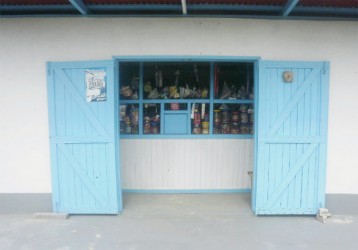 Deenmattie added that the roads were deplorable and the streets were muddy especially when it rained.
"When I deh young, I use to mine plenty cows in order to look after my children. It didn't had any pasture here so me use to go and graze the cow them in the blazing sun."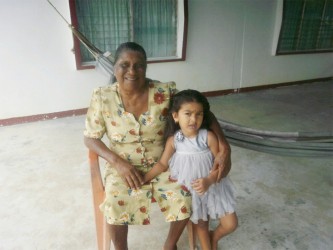 As a young woman, Deenmattie said, she and her friends walked to Charity to go to school and to the market, and she especially enjoyed swimming in the canal near her home. Now in her spare time she enjoys planting a little kitchen garden which has blossoming ochro plants.
A notable structure that still stands tall in the village is the now abandoned rice mill which according to a resident was built over 30 years ago and was one of the first mills to be erected along the Essequibo Coast. No one in the village seemed to know who the owner of building was, but it is usually referred to as 'Silo.' This mill processed the rice crop in the early years but was given over to Caricom Rice Mills.

The mill which has apparently been forgotten is now left to shelter homeless cats, dogs and rodents.
Somerset and Berks consists of about 150 persons and residents said there is no crime in the village.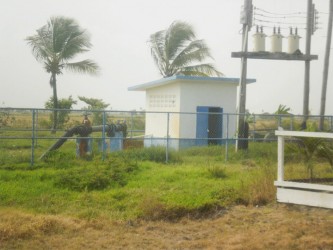 Most of the residents attend the temple in a nearby village since there is none in Somerset. The school children attend Somerset Nursery, Anna Regina Secondary, 8th of May Secondary or the schools in Charity. The closest hangout spot is in Charity.
Garbage is usually burned or buried by residents.
Comments

Prime Minister Moses Nagamootoo yesterday called on the Opposition to put to an end their dilatory tactic because it violates the standing order of the National Assembly.                    

(Trinidad Guardian) Stop embarrassing the Chinese government and people! That was Prime Minister Dr Keith Rowley's rebuke to the Opposition in Parliament yesterday, after being pressed on the change of plans for his China trip.

Despite the AFC's claim that it was not involved in the selection of a Guyana Elections Commission (Gecom) Chairman, its two senior leaders, Khemraj Ramjattan and Raphael Trotman, had advised President David Granger that he could utilise the constitutional proviso and make a unilateral appointment.

The National Assembly last evening approved over $8 billion in total budgetary allocations for 16 constitutional agencies even as the government's failure to properly account for cuts to requested expenditure drew criticism.

Opposition MPs were yesterday reprimanded by Speaker Dr Barton Scotland for their raucous behaviour on November 2nd, when they staged a protest that drowned out most of President David Granger's address to the National Assembly.