As the motive for the murder of Guyana Geology and Mines Commission (GGMC) engineer Trevor Abrams continues to baffle the police and his family, sources yesterday linked his death with his work in the interior, including the identification of areas where precious metals are located.
There is suspicion that Abrams, who had been a mining engineer with the commission since 2012, may have written something unfavourable in his most recent report from his work in Region One.
A senior police official told Stabroek News yesterday that there had been no arrests but investigators were developing camera footage that they have with the hopes of getting a lead. This newspaper understands too that the police are checking to see whether the murder may be connected to any recent incidents either through similar motives or weapons used.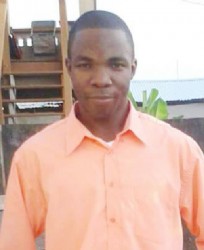 Sources yesterday said the attack was clearly a hit as the driver of the car the two gunmen were in was clearly trying to run Abrams off the East Bank Public Road before unleashing a volley of gunfire as he attempted to get away from them.
Based on an eye witness account, the gunmen launched their attack in the vicinity of DDL. A silver grey car was spotted speeding behind Abrams before it drove up alongside him and tried "to brace him to the corner." This apparently forced Abrams to slow down and he stopped.
According to the witness, it would appear that when Abrams spotted the hoodie-clad men holding guns, he immediately drove off. The gunmen got back into their vehicle and while in hot pursuit began shooting at the fleeing Abrams, who eventually uprooted a lantern post and veered into the canal at Little Diamond.
Public-spirited citizens managed to free him from the submerged vehicle and he was later rushed to the Diamond Diagnostic Centre, where he was pronounced dead on arrival.
Based on what this newspaper was told he sustained five gunshot wounds, two of which struck him in the back. At least nine spent shells were recovered from the scene and they appeared to have come two different guns.
When Stabroek News revisited the scene yesterday afternoon, workmen were placing the uprooted lantern post onto a tractor.
A resident recounted hearing five gunshots. She said they sounded like a vehicle "backfiring" but she immediately dived for cover and ventured out after a prolonged silence. She said when she looked up the road, she saw Abrams' vehicle sticking out of the canal.
According to the sources, it is virtually impossible that Abrams' murder would have been a random attack. One source said the gunmen chose to attack on a stretch of the roadway that did not have any turns or heavy traffic.
Persons familiar with Abrams and his work were convinced that the killing had everything to do with his work in Region One, which was the last area where he was dispatched. It is strongly believed that whatever problem he encountered had occurred there. It was suggested that someone in the area could have felt cheated and decided to take revenge before Abrams returned to the area.
 Shock
At Abrams' Samatta Point, Grove Housing Scheme home yesterday, his parents Leslie and Bridgette Abrams remained shocked at the manner in which their son met his end.
The man's father said the family has since discovered that a backpack that he usually used for work is missing. They are unsure if it was stolen prior to the shooting or after and whether the gunmen were after its contents. He said that among the items in the backpack was a $600,000 cheque from the GGMC, which his son was going to cash at a bank so that he could buy supplies for his upcoming trip back into the interior.
The father recalled that his son would have left his home a little after 10 am. The shooting occurred around 11 am. Based on the distance between his home and Little Diamond, the journey would not have taken him more than 20 minutes. It is unclear whether Abrams, who was not scheduled to go to work, may have stopped anywhere after leaving his home. There are several banks on the Diamond Public Road and given the fact that he had a cheque in his possession, the possibility exists that he may have stopped there. However, his father said the cheque had not been cashed.
Abrams was scheduled to go to work on the day that he was killed because he was preparing to return to the interior. He would usually use the days before his departure to prepare. He was to leave city tomorrow, his father noted.
Asked about her son's work, Bridgette Abrams said he would not go to the interior every six weeks as was being reported. She said that he went to the interior and returned home a little before Christmas last year. His upcoming trip, she added, would have been his first for the year. Both of his parents said based on what they knew, his responsibilities included "controlling the miners, regulating what happens in the mines and surveying." They added at no time did their son express any fears about his work nor did he mention any problems he was having with his duties.
Leslie Abrams noted that one of his son's colleagues related that investigators would have to check his report to see if it contains anything that can assist them with the investigation.
Bridgette had two theories; she believed her son was the victim of a robbery or he was killed by "somebody who he didn't do his work right with."
His mother said what was especially grievous to her was that people were saying all sorts of things about her son without being in possession of all the facts. "The character of the boy is nothing near what they are saying. It's people who don't know him[that] will say that but when you walk these streets everyone who comes, even members of his church, they are all amazed and saying not that boy," she stressed.
The mother added that her son was a devoted churchgoer and his religious convictions and his disposition were not reflected in the manner in which he died. "I am in shock. I am grieving because he does not deserve this," she said, while lamenting that people have become so fearless that they can shoot someone dead in broad daylight.
Both parents shot down suggestions that the man's car was acquired through ill-gotten gains. According to Leslie, his son borrowed money from the GGMC to buy his vehicle last year. In fact, it was not his first car.
According to his mother, he would have been entitled to a duty-free concession. "Your position gives you those kinds of things because if you are a government officer—I was appointed chief accountant and within months I was entitled to duty-free—so that has nothing to do with your years, your position gives you those things," she added. Unprofessionalism or wrongdoing, they said, was not in his character.
Leslie Abrams told this newspaper that police have promised that they will "go all out" to get to the bottom of his son's murder but he said given the force's track record, he believes it will be another unsolved murder.
Around the Web