A fire which engulfed and consumed a house in Catherine, Mahaicony on Tuesday, has left an elderly man homeless.
The house, located at Lot 18 Catherine Village, Mahaicony was home to Rajnarine Persaud, a 72-year-old citizen of the United States of America who returned to Guyana some eight days ago.
It was around 4.50 pm that Persaud's niece, who lives in the lot opposite him, heard her next door neighbour, Jemelia Moore, shouting that her uncle's home was on fire. She rushed over to the burning building, forced her way in through the stifling heat and smoke and rescued Persaud, who is a diabetic. As she was coming through the door, a bus driver who had stopped on the road went to her assistance and helped her and Persaud down the stairs to safety.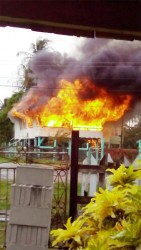 The origin of the fire remains unknown.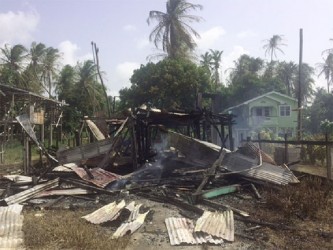 Given the distance the fire truck had to travel to reach Catherine, most of the neighbours shared the opinion it was as prompt as it could have been. Crawford said it took around 25-30 minutes to get there and when it did, fire fighters had to travel several houses past Persaud's home to obtain water from the trench.
"The house couldn't have been saved," Persaud's niece said. She told this newspaper that as soon as she and her uncle reached to safety the entire house was engulfed in flames. "And after a few minutes the fire went boom," she added.
Persaud's niece said he was staying at his sister who lives in West Berbice and was not in a state to talk as he was still in shock. She stated that Persaud had recently refurbished his house and he has lost a lot including all of his personal documents. She also stated that the family needs assistance and anyone willing to help can contact her on 660-0531.
Around the Web