Powerlifters from Life's Gym and the Upper Demerara Barbell Club (UDBC) displayed their strength prowess on Sunday to lift the marquee titles at this year's Juniors and Novices Powerlifting Championships at the National Gymnasium.
Life's Gym's Britney Mack stole the show by winning the female best lifter trophy while O.J Alleyne (UDBC) won the same title in the male category.
The 15-year old who is the daughter of national lifter, Osmond Mack, totaled 237.5kg. Lifting in the 47kg category, the fourth form student of North Georgetown Secondary School had a best squat of 107.5kg, a 25kg bench press and a 105kg deadlift. Her wilks totaled 319.411 points.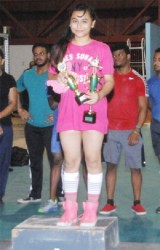 Nadina Taharally (281.40 wilks) and Shellon Nicholas (269.902 wilks) were second and third overall out of a field of six female athletes.
Alleyne, the 83kg lifter, showed plenty of promise with a total of 612kg.
The 32-year old Mackenzie High School teacher squatted 227kg, bench pressed 147.5kg and dead lifted 237.5kg.  His wilks points accumulated to 433.333.
Denzil Hopkinson placed second in Alleyne's category with a 552.5kg total while Vickram Panday was third with a 515kg total.
The pint sized Mack meanwhile told Stabroek Sport that last year was the first time she picked up a dumbbell while accompanying her father to the LBI based gym.
She labelled Sunday's meet, "a learning experience" and thus is optimistic bigger lifts are in her future as she refines her technique.
Mack's lifts were surely only the beginning of a promising powerlifting career since Sunday's outstanding performance was the culmination of only a few months of specific training.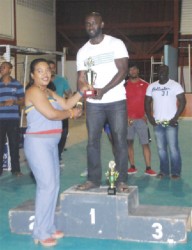 Like most of the novices and even some of the experienced lifters, Mack will be working on incorporating her lower body more on the bench press.
The teen also has ambitions of representing the Golden Arrowhead in the not too distant future.
"My bench is the weakest and I want to improve that when I represent Guyana at the Caribbean Championships."
Rudolph Blackman also from Life's Gym was adjudged the overall winner of the junior category.
Blackman had to total of 725kgs after squatting 272.5kg, bench pressing 172.5kg and dead lifting 235kg.
Powerlifting consists of three events – the squat, deadlift and bench press – during which competitors lift successively heavier weights in three attempts. Their best lift from each of the three events is tallied for an overall total.
Seniors, Fazim Abdool and Osmond Mack guest lifted at the event.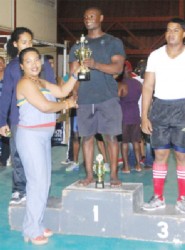 Randolph 'The Accomplisher' Morgan also put on a show. The dead lift gold medalist at the 2012 World Powerlifting Championships dead lifted 701pounds for two reps raw (without wraps or a belt).
The sum of 36 athletes competed at the event which started at 11:00hrs and concluded around 10 hours later.
Fitness Express was the lone sponsor of the fixture. (Emmerson Campbell)
Around the Web