Three weeks after a freak storm caused three electrical poles to topple in the village of Pearl on the East Bank Demerara, residents are still awaiting assistance from the Guyana Power and Light Inc (GPL).
Resident Melissa Barker has been without electricity since the storm on Saturday, July 30, which caused the electrical pole situated just at the entrance of the farmland property to be displaced and burst the connecting wires. The residents just across the trail have not been affected by the fallen poles, nor has the farmer further up the mud path.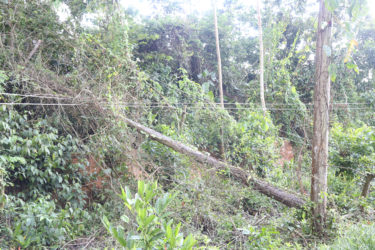 The other utility pole was seen lying between vegetation approaching the farmland, and the third, lying across a gutter outside the farm, barely visible in the overgrown grass.
Barker, as well as the owner of the farm, who wished not to be named, both stated that several reports were made to GPL. Workmen reportedly visited the day after the storm to assess the area, but have not returned since. The farm owner also showed a section of her yard, located some distance away, where electrical cables had fallen.
Around the Web