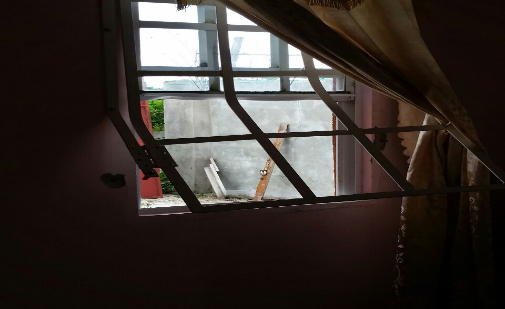 Two men are expected to be charged today after they were caught red-handed during a robbery at Eccles, East Bank Demerara.
The men were robbing the home of attorney Paula Nicholson on Wednesday morning when the police were summoned to the scene after a 911 call was made.
Nicholson told Stabroek News that around 10am, she received a phone call from her daughter, who saw two persons trying to enter the compound. She had earlier heard their dogs barking unusually and upon checking, she noticed the men.
Nicholson recounted that she told her daughter to secure herself and she would make contact with the police. However, the daughter dialed 911 immediately and police arrived at the home and they surrounded the bandits. Despite being surrounded, the men attempted to escape but police fired a shot and the men then surrendered.
The men had already packed a bag with a television and a DVD player, among other items.
After gaining entry into the compound, the men used a crowbar and forced their way through a grilled window in the bedroom. They then made their way to the living room, from where they seized the valuables.
There have been a number of attacks in Eccles in recent weeks. On Wednesday afternoon, Registrar of Deeds Azeena Baksh was robbed of a quantity of electronics and jewellery and cash when two armed bandits invaded her Young Professionals Housing Scheme, Eccles, home.
The bandits, one of whom was masked and both armed with handguns, gained entry after a contractor reportedly opened the gate. The men then reportedly held the security guard at gunpoint and walked him to Baksh's door and ordered that he call on her and ask for a glass of water. It was during this process that the men forced their way into the house and proceeded to tie her up along with the security guard and contractor.
Around the Web