A soldier is now free on $70,000 bail after being accused of having marijuana in his possession.
Guyana Defence Force (GDF) rank Troyston Cort was brought before Georgetown Magistrate Judy Latchman on the charge that he had 15 grammes of cannabis in his possession on March 23 at Stabroek Market.
Cort pleaded not guilty.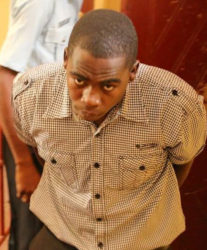 Police Prosecutor Shawn Gonsalves told the court that cannabis was found in Cort's pocket and in his bag.
Cort was represented by attorney Patrice Henry, who requested that his client be released on reasonable bail.
Magistrate Latchman granted the attorney's request and granted Cort his release on $70, 000 bail. The case is expected to be called again on April 10.
Meanwhile, in the courtroom of Chief Magistrate Ann McLennan, Cecil Martindale, 57, was accused of being in possession of one gramme of cocaine on March 26, at Fifth Street, Second Avenue, Bartica.
The Bartica resident denied the charge.
According to the case against him, at about 3.30 pm on the day in question, police on patrol saw Martindale acting in a suspicious manner, resulting in a search being conducted on him, which led to the discovery of the drug.
Martindale told the court that he saw the drug and picked it up but did not know what it was.
He was subsequently granted his release on $70,000 bail and the case was transferred to the Bartica Magistrate's Court for April 6.
Around the Web