Saying that new local government elections would be held next year, President David Granger yesterday urged both new and incumbent Mayors and Deputy Mayors of the nine municipalities to engage and listen to citizens, who will have the power to decide their future in office.
Granger made the appeal after the Mayors and Deputy Mayors were sworn in at State House.
"There will be local government elections in 2018 and if you don't perform and if you are not effective, your constituents are going to make their feelings impact on the outcome of those elections… I urge you, therefore, to ensure that all of the citizens in your towns and in your wards and in all of your constituencies are aware of the decisions that you are taking, which in the final analysis, affects them and their well-being," he said.
Local government polls were held last year after being delayed for almost two decades under the former government.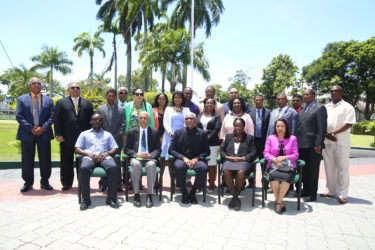 "Those of you, who are representatives of particular geographic areas or groups of people, must go into those areas and work and if there are problems in those areas and your constituents do not see you and they do not see the benefit of your work in terms of drainage, in terms of solid waste management or whatever function they feel is necessary [for you] to perform, they, in the final analysis, have that four letter word—V-O-T-E," he added.
Granger urged the Mayors and Deputy Mayors to consider the views of all councillors when important decisions are being made. He also asked that they demonstrate the values of representativeness, inclusiveness and effectiveness and exercise the authority bestowed upon them in a democratic manner.
He added that town councils must work together with the regional administrations and central government to deliver the quality of life that citizens desire and deserve.
"All three levels must work together for the national good… They cannot be separate; they cannot refuse to cooperate regardless of which party they come from or in which part of the country they function," he said.
Following the swearing in ceremony, the Mayors and Deputy Mayors were treated to a special luncheon at State House.
The Mayors sworn in yesterday were: Patricia Chase-Green – Georgetown; Kirt Wynter – New Amsterdam; Krishnand Jaichand – Corriverton; Carwyn Holland – Linden; Vijay Ramoo – Rose Hall; Rabindranauth Mohan – Anna Regina; Gifford Marshall – Bartica; Carlton Beckles – Lethem; and Henry Smith – Mabaruma.
The Deputy Mayors who were sworn in were: Lionel Jaikaran – Georgetown; Winifred Heywood – New Amsterdam; Jamna Persaud Ghamandi – Corriverton; Waneka Arrindell – Linden; Dave Budhu – Rose Hall; Darshan Persaud – Anna Regina; Nageshwari Lochanprashad – Bartica; and Maxine Welch – Lethem.
Around the Web