Sparta Boss tackles Gold is Money while Future Stars engages Back Circle in the semi-final round of the inaugural Street Vibes Entertainment, 'Futsal Championship' today, following quarterfinal wins on Saturday.
Hosted at the National Gymnasium, Mandela Avenue, Sparta Boss downed Kitty outfit Hustlers 2-0 with Gregory Richardson and Daniel Wilson, scoring in the second and 10th minute respectively.
Gold is Money overcame Swag Entertainment of Linden 5-3. Colin Nelson tallied a brace in the fourth and 32nd minute while Deon Alfred, Randolph Wagner and Carl Tudor scored in the fifth, 19th and 35th respectively.
For the Lindeners, Shane Luckie scored twice in the sixth and seventh minute, while Romel Pickering scored in the 25th minute. Meanwhile, Future Stars battled past Leopold Street 5-2.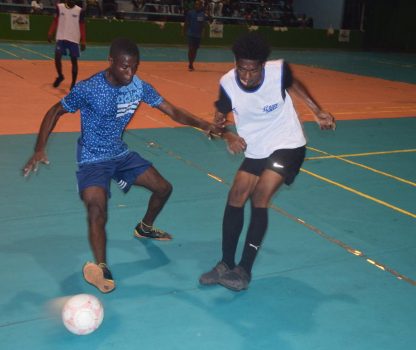 The showdown, which entered the extra time interval, was eventually decided by a Jermin Junior helmet trick in the 10th, 39th, 41st and 47th minute. Jamal Cozier was also on target in the 23rd minute.
On the other side of the field, an own goal opened the scoring in the 14th minute while Sheldon Profit netted in the 21st minute. Meanwhile, Back Circle edged Albouystown-A 3-1 on penalty kicks, after regulation and extra time saw the match ending 2-2.
Selwyn Williams and Jermaine Beckles were on target for Back Circle in the fifth and 14th minute respectively while Andrew Murray Jr., and Moses Grittens scored in the 12th and 17th apiece.
Prior to the start of the semifinals, several exhibition matches will be staged. Winner of the tournament will pocket $700,000 and the championship trophy, while the second, third and fourth place finishers will receive $250,000, $150,000 and $100,000 respectively and the corresponding accolade.
The sponsors of the event are the Guyana Police Force, Windjammer International Hotel and Cuisine and 94.1 Boom FM.
Complete Results
 
Game-1
Gold is Money-5 vs Swag Entertainment-3
Gold Scorers
Colin Nelson-4th and 32nd
Deon Alfred-5th
Randolph Wagner-19th
Carl Tudor-35th
Swag Scorers
Shane Luckie-6th and 7th
Romell Pickering-25th
Game-2
Future Stars-5 vs Leopold Street-2
 Future Scorers
Jermin Junior-10th, 39th, 41st and 47th
Jamal Cozier-43rd
Leopold Scorers
Own Goal-14th
Sheldon Profit-21st
Game-3
Albouystown-A-2 vs Back Circle-2
Back Circle won 3-1 on penalty kicks
Back Scorers
Selwyn Williams-5th
Jermaine Beckles-14th
Albouystown-A Scorers
Andrew Murray Jr-12th
Moses Grittens-17th
Game-4
Sparta Boss-2 vs Hustlers-0
Gregory Richardson-2nd
Daniel Wilson-10th
Today's Semi-final Fixtures
Future Stars vs Back Circle-21:00hrs
Gold is Money vs Sparta Boss-22:00hrs
Around the Web