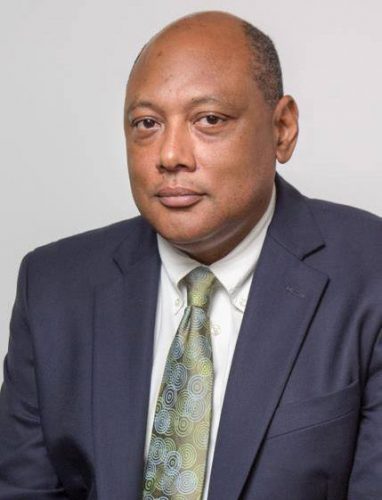 President David Granger has left his run for a second term in 2020 up to the parties in the APNU+AFC coalition but he has already received some endorsements from party leaders who trumpeted his anti-corruption image and integrity. 
Alliance for Change (AFC) Leader, Raphael Trotman and Working People's Alliance (WPA) Executive David Hinds say while their parties will have to internally decide on the issue, they will support Granger and listed his main appeal as a man of stellar integrity.
 "I believe that the same reasons why the APNU and AFC galvanized under Mr. Granger remain and I believe he will be persuaded to remain as the candidate in 2020. His integrity, patriotism, vision and quiet leadership are the qualities that Guyanese identified with and still want," Trotman told Stabroek News yesterday.
Hinds had this to add, "While I have some difficulty with President Granger's style of leadership, I don't see a superior candidate from among the hopefuls. So, in such a situation incumbency rules. Granger's strength is personal integrity, which in our political environment is a tremendous asset. If one were tempted to look elsewhere for an alternative leader, it would be hard to find one with the same degree of personal integrity. What he lacks in political nimbleness he makes up in that critical area. So I am prepared from this distance, barring any big unforeseen political development to forecast, that he would be the presidential candidate of any coalition."
For Justice for All Leader Jaipaul Sharma, it is too early to declare support since he does not know if he will still be a part of the coalition two years from now. "We haven't reached that stage yet and I don't want to comment on that now. I may not even be in the coalition," Sharma said.
Last Friday, Granger stopped short of saying whether he would seek re-election at the 2020 general elections, while noting that he would not "run away" from service if called to.
"I would say, 'Who knows?'" he first replied when asked about seeking re-election. But pressed on if he would accept a nomination he said he would not run away from service.
"I cannot answer the question at the present time. It is speculative but I am a servant of my party, I am a servant of the partnership and I am a servant of the coalition and my duty is to serve and I would not run away from service," he said.
Since the recent People's National Cong-ress Reform (PNCR) congress, where Granger was unchallenged as leader of the party and Minister of Public Health Volda Lawrence  was elected party Chairman—effectively the deputy leader—there has been much public speculation about who would be the party's 2020 Presidential Candidate. Questions have also been asked on if Lawrence as Chairman would succeed him.
On February 14th, 2015, five months shy of Granger's 70th birthday and following weeks of negotiations, his APNU alliance and the AFC signed an agreement – the Cummingsburg Accord – which saw the two groups uniting under a single banner for the May 11th general elections. The coalition named Granger as its presidential candidate and AFC member Moses Nagamootoo as the prime ministerial candidate.
Then, the AFC had expressed its confidence that Granger was the best person to take the coalition to a win in 2015. "Whilst we will contest this election on issues not personalities, I have no doubt in my mind that the APNU+AFC alliance will be victorious and that David Granger will be Guyana's next President. I have every reason to feel that as President, David will be just and fair, and that he will put Guyana first, that he would help to restore our beloved country to the place of respect and dignity in the Caribbean and in the rest of the world," Nagamootoo had said then.
Granger last week referred to how he had been chosen in 2015, saying that it was through a democratic selection process of the coalition but he added that he could not say now what the process would be for 2020.
"I became presidential candidate as a result of a democratic process. I became leader of A Partnership for National Unity and I became the presidential candidate/ leader of the coalition, so there were several steps. I am now leader of the People's National Congress (Reform) and I have to bear in mind that my elevation to the presidency is as a result of popular support, as a result of democratic processes. I will not abandon those processes. Once those processes function I will observe them, but at present I cannot say what the outcome of those processes might be," he added.
Father figure
Trotman said that with Guyana poised to soon be an oil producing country, which comes with huge revenues, he believes that a person with Granger's record should be allowed to share this country's future.
'I see him as the father figure that we all need at this critical epoch-making period after first oil  to shape the foundation and direct the new Guyana," he explained.
Hinds on the other hand feels that his party would first have to decide on if it wants to be a part of the coalition in 2020 before it could decide on a candidate, as that would be determined also on the person the People's National Congress Reform chooses.
"The WPA has not discussed that issue.  But I imagine that we will first have to … decide whether we will be part of the Coalition. It is not a done deal as it is no secret that there is divided opinion among our membership and supporters. I would think that we will have to take all factors into consideration, including whether we feel there is scope for improved consultation and democratic decision making," he reasoned.
"Regarding President Granger's potential candidacy, at the level of the APNU there is an unwritten understanding that the top of the ticket comes from the PNC(R). So, his candidacy depends more on whether he is just put forward by his party.
"My own view is that I don't think any of the other APNU parties would reject a nomination coming from the PNC(R) . And unlike in 2015, I don't think the AFC currently  has the leverage to bargain for the top spot and I think from everything I have seen and heard, he wants to continue," he added. 
"Finally while I don't think he would be challenged for the top spot, I am very sure that he would be pressured to broaden decision making beyond Cabinet and the Presidency. That is perhaps the biggest problem that coalition partners, including his own party, has with his leadership. I also think there would be more pressure on him to be less inflexible. So he gets the top spot without challenge, but he would be under pressure to make some accommodations", Hinds said.
And from his personal observations, the Arizona State University Political Science Professor believes that at the mass level, sections of the coalition's support base are somewhat disappointed with Granger's leadership.
"From moving around, there is some feeling that he has not been tough enough on the opposition, that he has not paid enough attention to his ethnic base, that he is too aloof, that he is not a hands-on leader and that he does not handle criticism well. But he gets high marks for being decent, incorruptible and stable," he posited.
These characteristics, Hinds believes, will not see much change or "big push back" in the party's support base but if Granger wants  to retain or regain the rock star effect he had in 2015, he would have to be more engaged with his base over the next two years.
"He personally would have to reassure the base that he stands with them by being much more sensitive to their concerns, interests and needs. So he gets the top spot partly because his party does not have an alternative leader to credibly and effectively fill the spot and partly because of his personal integrity," he said.
"So with Granger at the top, you get a very mixed bag. But he can lean things more to his favour, if he is willing to critically assess his stewardship and make some necessary adjustments to his style and to the substance of his policies. My own view is that his handling of the planning for the coming oil revenues could give him a way out. If he continues on the straight and narrow road he is currently on, he is not going to help himself much. But if he can inspire hope in the popular masses that he would use the resources to champion their causes such as poverty alleviation and social programmes aimed to the social bottom, he could become an even more effective candidate in 2020," he added.
Around the Web