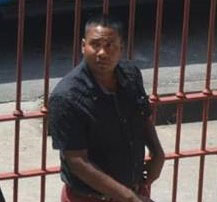 Charged with discharging a loaded firearm at a fellow villager during a scuffle, a Mahdia businessman was yesterday remanded to prison.
Simon Hussain, 36, was read a charge which stated that on September 23, at 111 Miles Mahdia, Potaro, he discharged a loaded firearm at Shohonan Monderson, aka 'Bigs', with intent to maim disfigure or disable him.
Hussain, of the above mentioned address, pleaded not guilty to the charge.
According to the facts presented to the court, on the day in question, at about 00:20 hours, the complainant and the defendant, who are known to each other, were standing in front of Susan's Bar, at Mahdia Landing, when the defendant, who is licensed to carry a .32 ammunition, had an argument with Monderson about his brother.
The defendant subsequently pulled out his firearm and discharged two rounds at the complainant, hitting him in his left shoulder. Monderson then jumped on the defendant and knocked the weapon out of his hand, causing it to fall to the ground.
Hussain's attorney told an entirely different story. He stated that it was Monderson who was threatening Hussain and said that after the threats were ignored, he attacked the accused. As a result of the attack, a fight ensued and during the fight, the accused discharged the weapon.
Chief Magistrate Ann McLennan later remanded Hussain to prison.
The matter was then adjourned to October 15, when it is expected to be heard at the Mahdia Magistrate's Court.
Around the Web