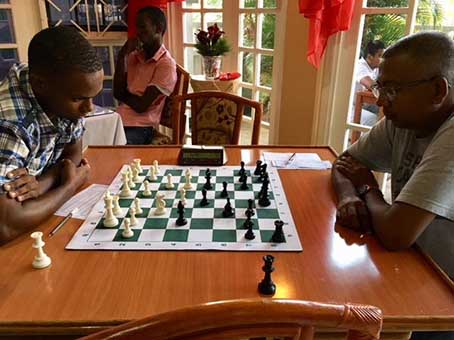 Loris Nathoo squashed all talk of this year's national senior chess championships being a three-person race by stunning one of the title favourites Anthony Drayton as the Closed championships commenced last weekend at  the Windjammer Hotel, Kitty.
Prior to the commencement of the championships all eyes were on defending champion Wendell Meusa, former champion Taffin Khan and Drayton.
Things looked to be going according to plan when Drayton and Meusa drew their match but Nathoo, FIDE rating of 1669, had other ideas and in the biggest upset of the championships thus far he stopped
Candidate Master Drayton, who has a FIDE ranking of 1945, the second highest by a Guyanese behind Meusa's 1967.
Drayton now has one and a half points following his round one win over Glenford Corlette.
After three rounds, Khan leads the points standing with 2.5 points gained from two wins and a draw while Meusa, Nathoo and Ronuel Greenidge are locked on two points each.
Saeed Anwar Ali has a solitary point while Corlette and Maria Varona-Thomas occupy the cellar position with half a point each.
The junior tournament is proving to be a very competitive one with two players Joshua Gopaul and Ghansham Allijohn leading the points standings with 2.5 points each.
Jaden Taylor, Roshawn Washington and Ethan Lee are on two points each while Nellisha Johnson has one point. Dwayne Bess and Sasha Shariff are languishing at the bottom of the table. Both yet to score.
The competition will wrap up this weekend with action in both categories at the National Resource Centre, Woolford Avenue, Georgetown.
Around the Web