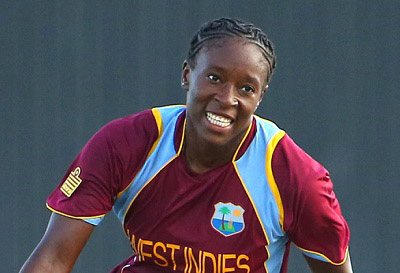 PORT OF SPAIN, Trinidad, CMC – Fast bowler Shakera Selman believes the enhanced team chemistry in the West Indies side will play a key role in their defence of the Twenty20 World Cup title in the Caribbean next month.
The core of the squad had been together over the last several months in various training camps and Selman said this had resulted in strong camaraderie in the unit, which augurs well for their campaign in the November 9-24 tournament.
"The atmosphere [in the camp] is very good. We have become a lot like a family over the last few months," said Selman.
"We've been together, we've been living together so it has actually brought us a lot closer and I think we are prepared."
She added: "We are very confident. We're going to put our best foot forward. We know it's going to be very challenging. Everyone will be coming to beat West Indies because we are very good, especially in the T20 format but we are very confident.
"We're going to play our best cricket and we know if we do that we're in with a big chance."
West Indies will compete in Group A alongside powerful England, South Africa, Sri Lanka and Bangladesh, and are expected to be one of the two teams to reach the final four.
Group B, meanwhile, will see powerhouses Australia, India, New Zealand, Pakistan and Ireland clashing for a place in the semi-finals.
In the last tournament in India two years ago, West Indies were forced to overcome a strong New Zealand side in the semi-finals before downing the Aussies in the final, and Selman believes the hosts will have to be at their best again against these top tier sides.
"In T20 – the shortest format of the game – it's always a challenge so all of the teams will be coming hard," she pointed out.
"We're looking at all the teams especially the ones in our group, but over the last few years we know England and Australia have been our toughest competitors and we are really preparing for them."
Selman, who is expected to lead West Indies' new-ball attack, said the tournament was extremely important to the team especially since West Indies were hosts.
"It means a lot to me, it means a lot to the team as well," she stressed.
"It's the first stand-alone T20 tournament for the women and it's really an honour to have it here in the Caribbean especially being defending champions."
West Indies are currently preparing for the fourth Twenty20 International of a five-match series against South Africa, carded for the Brian Lara Stadium in Tarouba on tomorrow.
They lead the series 2-0 after winning the first two matches. The third fixture on Sunday was rained out.
Around the Web