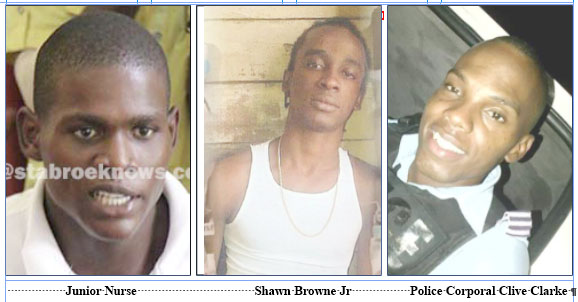 Junior Nurse, one of the three robbers who was fatally shot after a city home invasion on Thursday night, was a known convict and he had been sentenced to a total of seven years in jail for two armed robberies.
Nurse, Shawn Brown Jr and another man who has since been identified as Leslie Griffith were shot during a gunfight with the police after invading a Norton Street, Lodge home and holding construction worker Neville Leslie, 46, and his five-year-old son at gunpoint.
Based on previous Stabroek News reports, Nurse, a resident of Hill Street, Albouystown, was sentenced to three years in jail after he pleaded guilty to a robbery charge in April 2015.
Nurse was one of three men charged with robbing Ramanand Jagdeo of three gold rings, a gold chain, a cell phone, a vacuum cleaner with compressor, $315,000 and a quantity of goods, all together valuing $1,754,000, as well as a Toyota Spacio car, valued $3.7 million and belonging to Linda Bonita in 2014.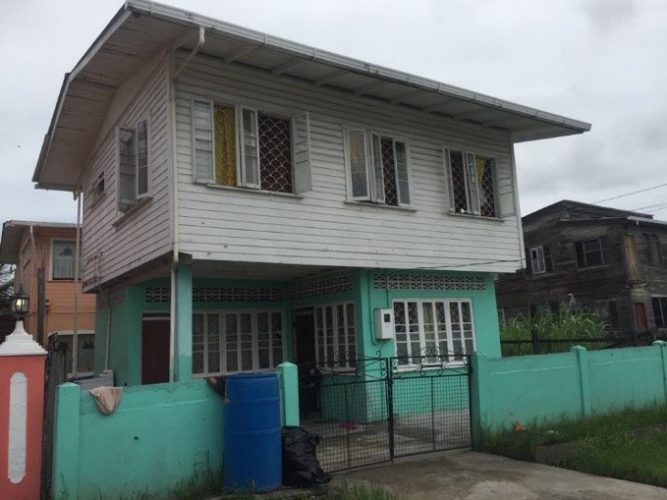 Nurse's two co-accused, Devon Forde and Adrian Bishop, died during the trial and he changed his plea during the proceedings.
Up to yesterday afternoon, it remained unclear if Shawn Brown Jr had any criminal record.
Brown, however, was the son of one of Guyana's most notorious criminals, Shawn Brown, who along with four others shot their way out of the Camp Street prison in 2002, killing one prison officer and seriously wounding another.
Brown's father was killed in 2003 during an explosive two-hour siege of a Prashad Nagar home in which three grenades were lobbed at a police/army team.
US federal authorities had issued a warrant for his arrest as a material witness in the kidnapping of US Embassy diplomat Stephen Lesniak here in 2003. He was also said to be wanted for over twenty murders, about fifty robberies, and a series of kidnappings.

Police only identified Griffith, 24, of Lot 165 William Street, Kitty, Georgetown last evening. Police Force spokesman Jairam Ramlakhan said that he was positively identified around yesterday by his mother, Lavern Arrindale.
Prior to their shootout with the police, the three men had attacked Leslie and his son and demanded valuables after learning that one of his family members had arrived in the country.
Leslie had related to Stabroek News that around 8.30 pm, he was confronted by one of the men, who jumped his fence and pointed a gun to his face before demanding gold and money.
Two other men subsequently appeared, also armed with guns, and forced him into the house.
"I said what gold and what money and they asked, 'What about the girl that come in the country? Where she deh?' I said, 'Man, me ain't understand what you asking and me ain't got nothing inside'," Leslie recalled.
The three men took the man and his five-year-old son to the top flat of the house and started ransacking the premises.
"They put me in one of the bedroom and put me to lie down with my son and tell me they gon shoot my son and shoot me if me ain't find the gold and money and give them," the visibly-traumatised Leslie recalled, before adding that his son kept asking him if the men were going to shoot them.
The men continued enquiring about gold and money before one turned to his accomplice and said, "we gon got to do this man like we does do everybody else."
After he kept telling the bandits that he did not have any gold or money, the men assaulted him and then took him into a back room.
While they were in the room with the man, a passing police patrol was alerted by neighbours about strange men entering Leslie's home.
The police subsequently took up tactical positions in front of the house by which time the bandits were alerted about their presence.
Right after the police arrived, the three bandits stormed out of the room and went down the stairs in an apparent bid to escape.
This prompted Leslie to block the door with barrels and other objects.
Prior to escaping out of a window along with his son, Leslie said he heard an exchange of fire between the bandits and police, and one of them complaining about being in pain from being shot.
Police said in a statement that the shootout lasted for almost an hour, during which time a Police Corporal received a gunshot injury to his left leg. Two of the bandits were later found motionless while the other, who suffered multiple gunshot injuries, surrendered. He later succumbed to his injuries on arrival at the Georgetown Public Hospital Corporation.
Residents of the area have lauded the police for their prompt responses. After the bodies of the three men were bought out of the house on Thursday, a crowd erupted in applause and thanked the lawmen for their work.
Meanwhile, the Public Security Ministry yesterday commended the work of the police, while affirming its belief that their responsiveness resulted in the prevention of harm to an innocent family. "Unfortunately, but with every justification, it resulted in the demise of three individuals whose intentions were to rob and probably kill," the ministry said in a statement.
The ministry added that it was also thankful for the community support which was received as the relevant and necessary information was given to the police and there was a rallying around their efforts in rescuing that family.
"Community support is extremely necessary to fight crime in Guyana. This support realised success in Black Bush Polder recently, as it did on this instance," the statement said.
"The battle is not yet won. But the collaborative efforts of the public, Police Force and the Ministry will continue unabated until it is," it added.
Corporal Clive Clarke, who was the rank wounded during the shootout, remained hospitalised yesterday and was said to be in a stable condition.
Around the Web