A 22-year-old man died yesterday morning when the CG motorcycle he was riding slammed into a food vendor and he was catapulted head-on into a nearby electricity pole.
Dead is Ralph Stewart who relatives said was a native of French Guiana but who lived here with his aunts.
The accident occurred sometime around 9:30 am yesterday at the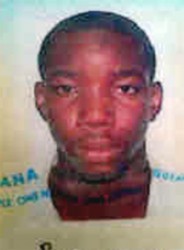 intersection of James and Campbell streets, Albouystown.
"He ain't had helmet on…he  come through speeding and right there hit de man and then he crash into the pole by he head…all the man pholourie and bake and thing gone flying in one direction, he in one and 'Boyo' (the food vendor) in the other," an eyewitness told Stabroek News.
The eyewitness said that while some residents rushed to the dead man's aid some stripped what remained of his motorcycle and made good their escape.
However, contrary to what one eyewitness said about the fate of the motorcycle another explained that public-spirited persons collected the bike and kept it in a yard and the man's family retrieved it later.
Stewart was taken to the GPHC where he was pronounced dead on arrival.
At his Lot 21 Walker's Terrace, Castello Housing Scheme, home his family was still shaken by the incident. His aunt Gem Hall, who takes on the role of his mother while he resides in Guyana, was devastated to the point where she said that her blood pressure had instantly risen.
She informed that Stewart only returned to Guyana about two months ago and because of his fondness for riding had purchased the motorcycle.  She believes that he was not wearing a helmet at the time of the accident and probably had been speeding away from the police because of this.
"He didn't do any wheelie, he wasn't wearing helmet. Police might have been chasing and he must be panic…swerve out from someone and hit the posts," Hall said.
She described her nephew as fun loving and respectful and always full of life.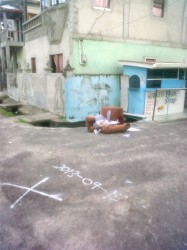 His two sisters and mother live in French Guiana but his maternal grandmother lives at Kuru Kuru on the Soesdyke/Linden Highway. His mother has already been notified of his death and is due to arrive in Guyana sometime today.
Stewart's autopsy will be performed today.
Around the Web