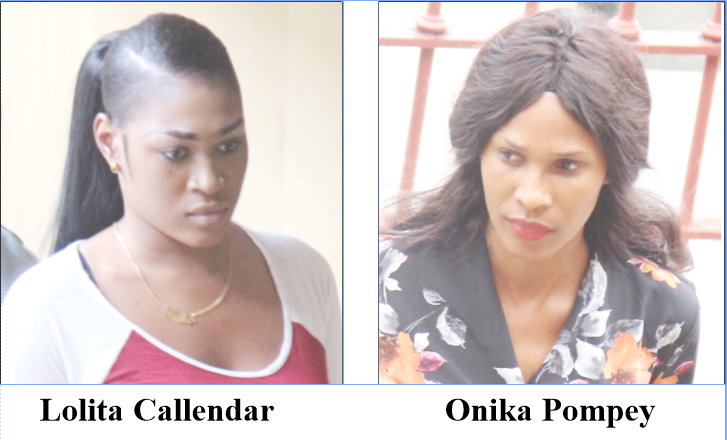 Two popular make-up artists, Lolita Callendar, known as 'Lola,' and Onika Pompey, were yesterday charged with harming each other in a recent fight.
The charge against Callendar, 27, stated that she inflicted grievous bodily harm on Pompey on April 6th, 2018, at Leopold Street. Callendar pleaded not guilty to the charge.
The charge against Pompey alleged that she unlawfully assaulted Callendar on the same date and at the same location.
Pompey also denied the charge. Police Prosecutor Arvin Moore stated that there was a fight, which led to Pompey sustaining multiple abrasions about her body and bite marks to her thigh, stomach and arm.
When asked by the magistrate about the injuries that she sustained, Callendar told the court that as a result of the scuffle she lost four of her fingernails, suffered a cut above her eyebrows and scratches about her body.
Videos of the fight were widely circulated on Facebook.
Callendar's attorney, who appeared after his client had been charged, later told the court that his client had showed him a video of the fight. The prosecutor, however, stated that he had no knowledge of any video.  Magistrate Judy Latchman placed both women on $80,000 bail and transferred the matters to courts 8 and 9 for hearings today.
Callendar was previously charged last month with assaulting another woman, Malika Holder.
She had also been arrested last month for allegedly harbouring fugitive Troy Anthony Thomas, who is wanted for murder in the United States.
Around the Web